Google Shopping campaigns
Are you ready to take your e-commerce sales to the cloud? Boost your business with targeted ads, better visibility and more results with Google Shopping campaigns. Find the ultimate solution to increase revenue and reach your target audience effortlessly.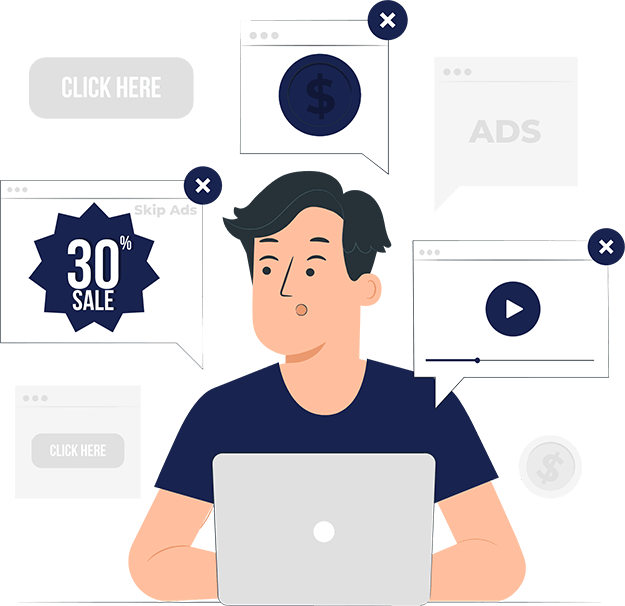 Google Shopping campaigns: what are they?
Google Shopping campaigns are a form of digital marketing tailored to e-commerce entities. This allows sellers to highlight their online and local stores, increase site visits and reach more qualified customers.
Google Shopping campaigns provide potential customers with a quick and clear overview of what the market has to offer by presenting product visuals, reviews and costs in search results.
This improves the shopping experience and increases the likelihood of attracting targeted buyers. As a result, these campaigns offer businesses a practical way to stand out in today's highly competitive digital marketplace.
How can Google Shopping campaigns boost your online sales?
Google Shopping campaigns can be an important driver of online sales. These Google advertising campaigns display product images, prices and business names directly in search results, giving users important shopping information at a glance.
This feature improves visibility, attracts customers' attention and makes it easier to compare purchases. Google's robust algorithm also provides tailored product recommendations based on users' browsing behaviour, increasing the chances of purchase.
In addition, by optimising product information appropriately, businesses can target customers who are making purchasing decisions and get better referrals to their stores. Ultimately, Google Shopping campaigns offer an effective way to increase conversions and boost online sales.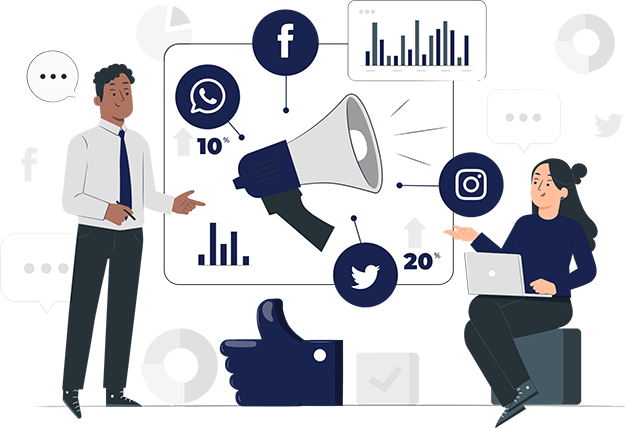 Key benefits of Google Shopping campaigns
Google Shopping campaigns increase product visibility, improve the user experience and boost sales. Here are some key benefits that highlight the importance of Google Shopping campaigns for your online business.

Increased product visibility
Google Shopping campaigns give your products a visual presentation. This increases the visibility of your product compared to standard text ads. As a result, potential customers are more likely to click on your ads.

Better quality leads
These campaigns include product information directly in your ads. Customers clearly understand the product before they click on the ad. This reduces unnecessary clicks and leads to higher quality leads.

Wider coverage
With Google Shopping, a single search term can show multiple products. Search results can include more than one product ad. This increases the likelihood of getting your customers' attention and extends your reach.

Better conversion rates
Because of their visual nature and product-specific information, Google Shopping ads tend to have better conversion rates. Customers know what they are clicking on, which reduces the chance of bouncing. This directly translates into more sales.

Detailed performance monitoring
Google Shopping campaigns allow you to accurately monitor the effectiveness of your campaign. You can easily see which products are driving clicks and sales. With this insight, you can optimise your campaigns for better results.

Seamless integration into the Google ecosystem
Google Shopping campaigns integrate seamlessly with other Google services such as Google Ads and Google Merchant Center. This integration streamlines your marketing efforts and makes it easier to manage your campaign. It also improves data tracking and results interpretation.
How to set up your first successful Google Shopping campaign?
Google Shopping campaigns provide a competitive advantage for online retailers, allowing you to showcase products directly to interested shoppers. There are several key steps to setting up, but with careful planning and optimisation, you can drive a lot of traffic to your store.

Choose the right Google Account
First, make sure you have chosen the right Google Account for your business. This account should be one that is suitable for your business correspondence. It should preferably be separate from your personal accounts to avoid confusion.

Configure Google Merchant Center
Google Merchant Center is essential for managing your product information. This platform allows you to upload your product data. It ensures that your products are visible on Google and across the web.

Create a product feed
In your product submission, you list your product information. It includes product names, descriptions and images. Make sure your product listing is complete and accurate to get better results.

Link to Google Ads and Shopping Centre
This important step allows your product data and Google Ads to work together. It allows your products to appear in search results. Be sure to link these accounts to ensure seamless integration.

Configure delivery settings
Delivery information can influence the buyer's decisions. Specify exact delivery prices and estimated delivery times. This brings clarity to customers and increases trust.

Specify payment details
Correct tax and payment information is essential for Shopping advertising. Enter all necessary tax information in the Google Merchant Center. Please keep this information up to date to avoid potential problems.

Create your Google Shopping campaign
Now it's time to create your Google Shopping campaign. Define your campaign name, price quote and budget. Always align these with your overall business objectives.

Optimise your product catalogue
Optimisation ensures that the right people see your product. Use high-quality images, relevant keywords and concise descriptions. Regular optimisation of your product feed will improve the effectiveness of your campaign.
Targeting options available for Google Shopping campaigns
Here we cover some of the main targeting options for Google Shopping campaigns.

Product categories
Product categories form the basis of segmentation for Google Shopping ads. This option allows advertisers to organise their inventory into defined groups based on attributes such as brand, product type or status. These groupings facilitate more accurate price quotes and tailored ads, improving campaign effectiveness.

Location targeting
Territorial targeting allows advertisers to show ads to customers in specific geographical areas. It is an important tool for companies that target ads to specific cities, regions or countries. It allows companies to optimise their advertising spend and increase the reach of their local markets.

Device alignment
Device targeting allows advertisers to tailor price offers based on the device used by a potential customer. This feature is crucial in today's mobile shopping era, and allows businesses to increase visibility on the platforms where their customers are most active. It ensures an effective cross-platform marketing strategy.

Custom tags
Custom tags provide a second level of product classification based on unique business needs. They can be based on seasonal products, profit margins or best-selling products. Custom tags offer more flexibility, allowing you to tailor strategic price offers and optimize campaign effectiveness.

Audience targeting
Audience targeting allows businesses to reach users based on their interests, demographics and previous website interactions. It allows businesses to reach out again to customers who have shown interest in their products. Audience targeting helps strengthen customer loyalty and increase repeat sales.

Day/hour allocation
Dayparting allows advertisers to show ads on specific days and times. This can be useful when targeting ads according to customer peak times. Dayparting helps businesses make the most of their advertising spend by reaching customers who are most likely to make a purchase.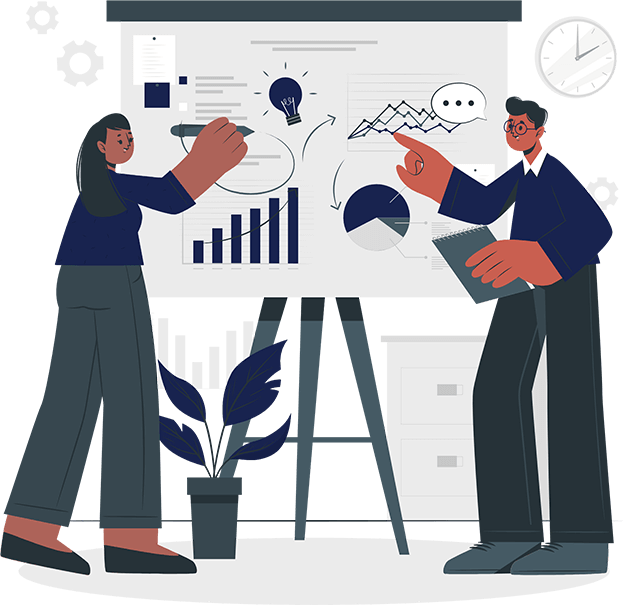 Can you use Google Shopping campaigns for international online shopping?
Absolutely, Google Shopping campaigns can be an effective platform for international e-commerce. With these global campaigns, businesses can showcase their products to consumers worldwide. But remember that success depends on an effective strategy.
Start by researching your target market. Understand their buying habits, preferences and language nuances. This information will guide the localisation of your ads, which is key to resonating with international audiences.
Google Merchant Center supports multiple currencies and languages, making it easy to do business internationally. Make sure your website also supports these to ensure a seamless experience.
Comply with local laws and Google policy requirements. Each country may have its own regulations for the sale and advertising of certain products. Stay up to date, avoid potential pitfalls and maximise your global e-commerce potential.

Customer story
Work speeded up significantly
Dashboa makes work easier, saves time and, above all, helps to build a vision of the whole. The big picture can sometimes get lost when working with so many channels. Dashboa makes work easier, saves time and, above all, helps to build a view of the big picture. The big picture can sometimes get lost when working with so many channels.
What are the costs of running Google Shopping campaigns?
Google Shopping campaigns require an investment that depends on a number of factors. The cost per click (CPC) is crucial. It is the amount you pay when a buyer clicks on your ad. The CPC can vary depending on the competition and the quality of your ad.
You also need to take into account the budget of your campaign. This can be daily or lifetime; Google uses it to manage the display density of ads. Remember that higher budgets can increase visibility.
Other costs include the time and resources needed to manage and optimise your campaign. This includes managing the product data feed, editing the price quote and ongoing campaign monitoring. Remember that optimising your campaign is essential to achieving a good return on your investment.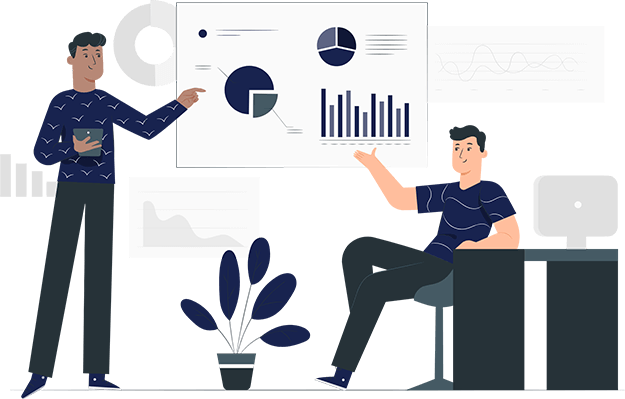 Frequently asked questions
You may have several questions about these campaigns. That's why we've compiled a list of frequently asked questions and provided clear, concise answers to help you better understand Google Shopping campaigns.
How do Google Shopping ads differ from text ads?
Unlike text ads, Google Shopping ads present products visually with a product title, image and price. This interactive format gives shoppers a strong sense of the product, which often leads to better leads and conversions.
How do I optimise my Google Shopping campaign?
Optimise your campaign by keeping your product data feeds up to date, using high-quality images and optimising your brand names. You can also manage your quotes effectively and automate quotes based on conversion data with Google's intelligent quoting strategies.
What is the product data feed for Google Shopping campaigns?
A product information feed is a list of your products and their attributes. These attributes include title, description, price, image URL and more. Google uses this feed to display your products in Shopping ads.
What role does Google Merchant Center play in Google Shopping campaigns?
Google Merchant Center is a tool where you can upload your product information. This information is then used to create Shopping ads in Google Ads. It acts as a link between your products and shoppers looking for them.
How do I measure the success of my Google Shopping campaigns?
Success can be measured using various Google Ads metrics such as click-through rate (CTR), conversion rate and return on ad spend (ROAS). Regular monitoring of these metrics can provide insights into campaign effectiveness and areas for improvement.
How does Google's Smart Bidding feature work in Shopping campaigns?
Google's Smart Bidding optimises bids for conversions using machine learning. It takes into account multiple signals such as device, location and time of day to automatically adjust your bids. This can improve performance and ROI.
How can customer reviews affect my Google Shopping campaigns?
Customer reviews can have a significant impact on your campaigns. Positive reviews increase your credibility and can increase click-through rates. Google also aggregates reviews and displays them in your Shopping ads, providing social proof.
Can I use Google Shopping campaigns and text ads at the same time?
Yes, using both at the same time can increase your brand visibility. While Shopping ads can showcase your products visually, text ads can be used to promote special offers or broader categories.
How do I control which products appear in my Google Shopping ads?
You can control this with Google Ads product categories. You can categorise your products and set bids for each category. This allows you to prioritise certain products in your ads.
Can I use Google Shopping campaigns if I have a physical store?
Yes, Google offers local product ads that show your products and store details to nearby shoppers. These ads can help drive traffic to your physical store.
Dashboa Blog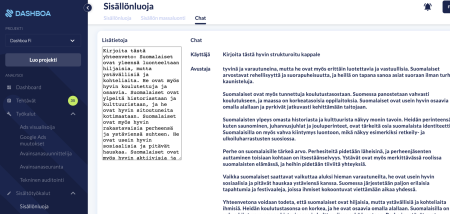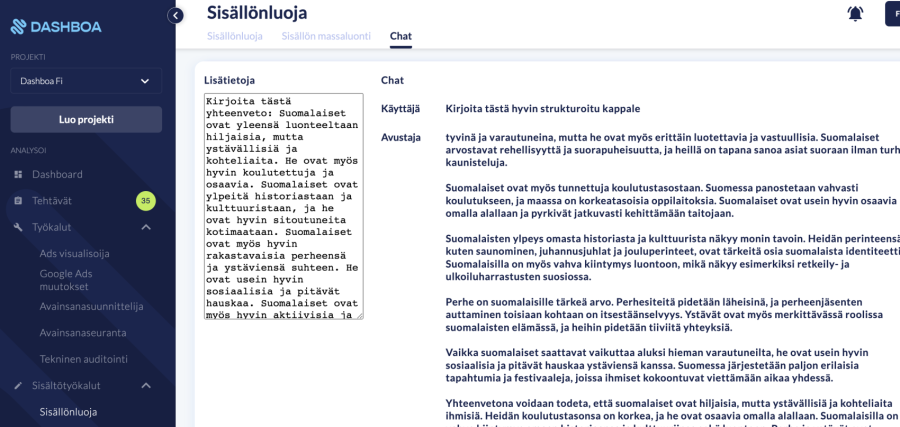 25.8.2023
What does AI think about Finns?
I wonder what that fly thinks of me? - Sounds like the punchline of a traditional Finnish joke. Today we find out what AI thinks of Finns! And ...