A quick guide to search engine optimisation for e-commerce. From buyer personas to analytics.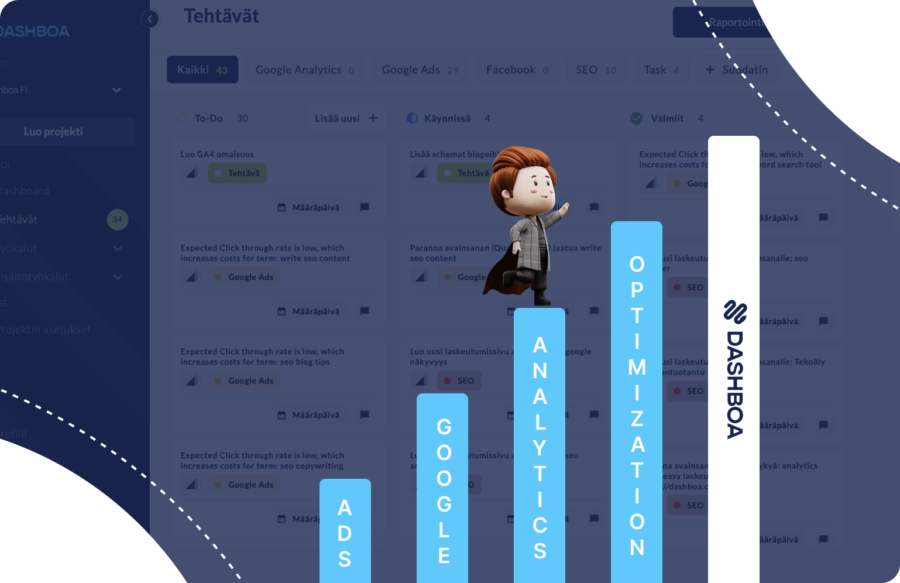 E-commerce SEO quick guide
Search engine optimisation, or SEO, is the cornerstone of online business in today's world. Without search engine discoverability, it is very difficult to achieve profitable growth and succeed in the digital environment. SEO is the key to reaching new potential customers and increasing sales.
SEO basically means taking steps to ensure that a website and its content is visible in organic search engine results. When a website is optimised for specific relevant keywords, it ranks high in search results for the right audience looking for information and solutions to their problems. This allows the right traffic to be easily directed to the site.
How is SEO split?
SEO can be divided into two main categories:
Content optimisation. This includes understanding buyer intent, keyword selection, quality and optimised content production and link acquisition.
Technical optimisation. This includes optimising site structure and coding, speed improvements, responsive mobile-friendliness, sitemap and metadata.
By getting both areas right, it is possible to achieve sustainable success in search engines. This requires constant work and monitoring. But the effort is worth it - SEO is one of the most effective ways to grow your online business.
This guide focuses on SEO specifically from the perspective of Finnish B2C e-commerce. It goes through all the key aspects and gives practical advice on how online stores can improve their search engine visibility and increase their sales.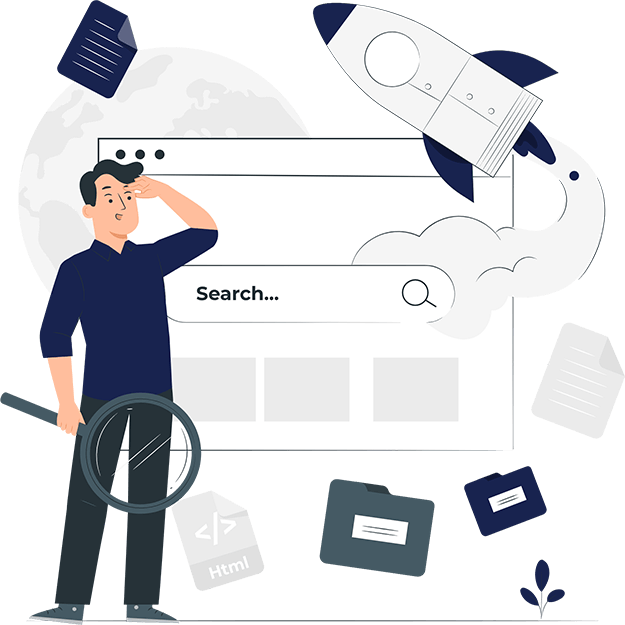 Why is SEO important for your online store?
Competition for visibility in search engines is very fierce in online commerce. New online shops are being set up all the time and old ones are trying to increase their share. Without active SEO work, it is very difficult to compete in this environment.
It is estimated that up to 60-70% of e-commerce traffic comes from search engines. Therefore, maximising visibility in search results is of paramount importance. A good ranking will bring potential customers who are already well down the purchase path. Converting them is much easier than converting random traffic.
The importance of SEO becomes even more pronounced when you consider how the vast majority of purchasing decisions are made online. Up to 90% of purchase paths start with Google or another search engine. Consumers search for information and compare options before making a purchase. That's why it's important to be found in the top positions for the keywords that influence the purchase decision.
Good organic placement brings traffic to the store that makes it easier to build paying customers. Being in the top positions also increases brand credibility and reliability. Conversely, a poor ranking gives an unprofessional image.
Research has shown that online shops on the first page of search results receive up to ten times more traffic than those on the second page. The difference can be as much as hundreds of percent in sales. This shows how important good SEO visibility is for a business.
In summary, SEO is one of the most important success factors for an online store. It is the key to reaching new customers and making it easier for them to buy. Without investing in search engine optimisation, it is difficult to grow and scale an online business in today's world.
Buyer behaviour analysis and buyer personas
Successful SEO always starts with an in-depth understanding of buyers. You need to know your target audience and how they search for information online before you can optimise content and keywords correctly.
One good way to identify and segment your audience is to create buyer personas. A buyer persona is a fictional character that summarises the characteristics and behaviour of a particular group of customers. You should give the persona a name, age, gender and other background information. But the most important thing is to describe their motivations, needs and ways of acting.
For example, an online shop selling electronics could identify the following buyer personas:
Jesse, 25-year-old student looking for affordable but good quality equipment
Leila, a 32-year-old entrepreneur who wants stylish and easy-to-use products
Marko, a 42-year-old engineer who looks for the latest technology and carefully compares products
Once buyers have been split into personas, data analytics can be used to examine the keywords each group uses to search for information on Google. This helps to identify the relevant keywords to optimise for. Content is also designed to meet the needs of the buyer personas.
For example, Jesse, a student, might search for cheap laptops by googling "cheap student laptop". Leila, an entrepreneur, might search for stylish phones by searching for "design smartphone". Engineer Marko compares gaming laptops with powerful search terms like "RTX 3080 laptop".
By identifying and using the right keywords for these customers, the online store can target its content and optimisation correctly. At the same time, the shoppers who are important to the sale will find it easier to find what they are looking for in the store.
Google Analytics also provides valuable information about customer behaviour on the website. The reports show, for example:
From which channels (search, social media, etc.) visitors come to the site
Which keywords bring the most traffic and purchases
What content is most read and shared
On which devices (mobile vs. desktop) the site is used
At what point does the exit rate increase
With this information, the content strategy and user experience can be properly optimised. You can find out where the purchase path breaks down and target content accordingly.

Keyword definition and analysis
Choosing keywords is one of the most important aspects of successful SEO. Keywords determine the topics on which content is produced and the search terms you want to be found in the search results.
When choosing keywords, you should proceed as follows:
Brainstorm the widest possible vocabulary
Recognising long tail search phrases
Data analysis with tools
Prioritisation of relevant and commercial words
Continuous monitoring and optimisation
To start with, you should collect as comprehensive a list as possible of all the words and phrases that customers might use when searching for your products or services. Don't limit your search to your own products, but think broadly about the problems your customers are trying to solve. Read more about keyword research.
This is followed by the identification of long tail search phrases, i.e. more specific searches that are several words long. For example, "men's sneakers" is a more common search than "men's leather sneakers". Long tail brings less traffic, but better converting visitors.
With a large list of possible keywords, tools are used to analyse them. Google Keyword Planner and other tools provide information on the monthly search volume of keywords and their commercial potential.
Based on this information, the words that bring the most traffic and sales, but where competition is not yet too fierce, are selected for the final search analysis. It's a good idea to have a fair number of keywords, as Google will focus on the overall theme of the site rather than just individual words.
Search terms and their performance should be constantly monitored through analytics. If a keyword does not produce the desired result, it should be replaced with a more convergent term. Keywords are constantly evolving, so keeping them up to date is an important part of SEO.
Creating a content strategy
High quality and user-centric content is the cornerstone of SEO. Without relevant content, a good ranking in search results is not possible. The content strategy defines the content that will address the problems of each buyer persona and guide them towards a purchase decision.
A good starting point is to think about content according to the different stages of the buying path:
Awareness stage: the buyer identifies a problem/need and seeks a solution
Content examples: guides, blogs, inspiration articles
Consideration phase: the buyer searches and compares different options
Examples of content: product comparisons, articles presenting alternatives
Decision stage: the buyer has decided on the product and is looking for more information about it
Content examples: detailed product descriptions, customer reviews
Purchase phase: the buyer makes the purchase and may be looking for instructions for use
Examples of content: product support, frequently asked questions, user manuals
Each stage should be accompanied by appropriate content. This will guide the user towards the purchase decision and transaction.
Different content formats also have a role to play. In addition to informative articles, lists, checklists and videos work well. Visuals are important: pictures, diagrams and tables bring the text to life.
In turn, online and blog content, such as "behind the scenes" articles, bring a human touch and trust in the brand. Customers' own reviews and experiences are also valuable content.
Each piece of content must be optimised for a specific set of carefully selected keywords. Keywords are used in headlines, in the intro and in the first paragraph. Subheadings, captions and link texts are also optimised for keywords. However, simply repeating keywords is not enough - content must always add value for the reader.
Good content is therefore of huge importance for successful SEO. It is a way to differentiate yourself and provide the user with what they are looking for. At the same time, it ensures that your site ranks well in search results.
Technical SEO - creating search engine friendly code and structure
Technical implementation has a big impact on SEO optimisation. If the basics are not right in the code and structure of your website, search engine robots will not have proper access to your content. This prevents them from ranking well in search results.
The most important things to consider in technical SEO are:
Site speed - page load speed should be optimised to less than 3 seconds on desktop and 2 seconds on mobile. Slowness will be penalised in search results.
Responsiveness - the site must scale seamlessly across all devices. Shortcomings in mobile optimisation will negatively impact the ranking.
Proper page structure - a sitemap tells the search engine about the hierarchy of pages. Robot.txt blocks and allows access to parts of the site.
Internal linking - links to anchor texts should contain keywords and carry forward content.
URL structure optimisation - web addresses should be short, descriptive and contain keywords.
Metadata - title, description, alt texts and other metadata describe the content and help the search engine.
Product and category pages - product descriptions, prices, reviews, etc. should be easy to find and access.
These are the most important aspects of technical SEO. Getting the basics right will make it easier to rank well in search engines. Technical implementation should be constantly monitored and improved as search engines are constantly evolving.
Getting external links
External links, or mentions from other sites, have a big impact on how trustworthy and respected a site is in Google's eyes. Therefore, getting quality backlinks is an important part of SEO.
Links worth building include:
As guest blog posts on industry websites
Expert articles in the media
From the partners' website
From reputable and related websites
Through social media and PR
The quality of links is more important than the quantity. 10 backlinks from trustworthy and relevant sites can be worth more than 100 links from spammy sites. That's why you need to be careful when creating link partnerships. Your own content behind the links is also important.
The link profile should also be regularly monitored using tools such as Moz and Semrush. This will help to identify malicious links and other problem areas in your link profile. Correcting the link profile will ensure its positive impact on SEO results.
Measuring and improving SEO results
Ongoing monitoring and measurement are vital to understand the success of SEO efforts and make the necessary changes. The most popular metrics are:
Rankings for target keywords - where in the results have we ranked for the most important keywords?
Search traffic - how much traffic do we get from search engines and has it increased?
Conversions from search traffic - how many visitors take the desired action (e.g. register, buy)?
Exit rate - what percentage leave the page soon after entering?
Sales performance - have sales increased thanks to SEO?
These will provide information on what works and where to pay more attention in the future. If necessary, content, keywords or linking will be adapted to achieve better results.
The main measurement tools are Google Analytics, Google Search Console and tools to track rankings and keywords. Regular monitoring is the key to success.
Finally
Search engine optimisation is a critical part of online business success and growth today. By investing in SEO holistically, your online business can be grown and taken to the next level.
SEO consists of many elements, from understanding your buyers to the right content and technical implementation. All the pieces need to work together. Commitment to ongoing work is important.
In this guide, we have taken an in-depth look at the different aspects of SEO from the point of view of the Finnish online store. We hope that the article has given you concrete insights and tools to help you promote your online store in search engines!
See how Dashboa could improve your website